How Wall Murals Have Evolved Over Time
Last century, if you wanted a custom wall graphic for your company you had to hire an artist to hand paint it. This was time-consuming and expensive. Or you could search for stock wallpaper with a repeating pattern. Today's technology can produce a custom image on commercial wallpaper or wall vinyl that transforms a room, hall, or wall overnight. A good quality digital image or images can be combined to create that custom look you want. The entire wall can be one image, no more repeating patterns.
Imagine enlarging pictures of your early products and/or other sites to be displayed for all customers to see. With the number of stock photo sites available you can easily find an image, or you can have a custom graphic created that will transform a wall or room into a unique location that people will remember and talk about. One of the current design trends is to create inspiration walls with words, phrases, or quotes that suit your business, customers, and employees.
How Wall Murals Benefit Businesses
If you are looking to bring life to your interiors, change the way your office lobbies, hallways, personal cabins, and conference rooms appear, mural wallpapers are a great choice. They help in strengthening indoor branding and expose visitors to the creative side of your business. Custom wall murals are known to boost employee morale as they improve the working environment.
Great uses for digitally printed custom wall murals:
To display the company's history as a unique timeline  
As a showcase for your products or locations  
To inspire employees  
Brand development  
To create a unique environment for a restaurant, hotel, etc.  
Components of A Modern Wall Mural?
If you have not done it before, it is very easy to get confused while choosing the perfect wall mural for your business. As there are so many possibilities when it comes to the design, finding the right wallpaper that aligns with your brand, complements the interior décor can become stressful. Here we have made a list of items that be included on a custom wall mural to make it more effective and attractive:
Your Business Logo
Your Brand's Tag Line 
Company's Mission Statement
Your Product Line/ Major Products
Recent Accomplishments 
Upcoming Events
Motivational Quotes
If your business is in the GTA, including Toronto, Mississauga, Brampton, or the surrounding areas, call SSK Signs today to learn more about our custom wallpaper design and installation.
Vinyl Wall Graphics Installation By SSK Signs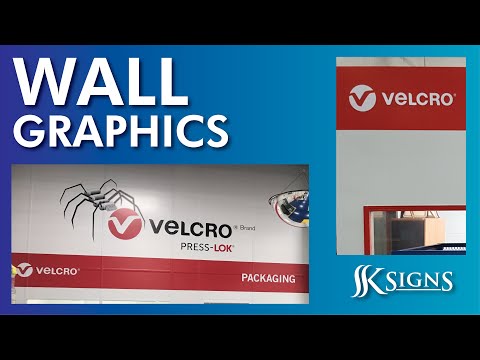 Custom Wall Mural & Graphic Ideas for Your Business by SSK Signs