How Wall Murals Have Evolved Over Time?
Last century, if you wanted a custom wall graphic for your company you had to hire an artist to hand paint it. This was time-consuming and expensive. Or you could search for stock wallpaper with a repeating pattern. Today's technology can produce a custom image on commercial wallpaper or wall vinyl that transforms a room, hall, or wall overnight. A good quality digital image or images can be combined to create that custom look you want. The entire wall can be one image, no more repeating patterns.
Imagine enlarging pictures of your early products and/or other sites to be displayed for all customers to see. With the number of stock photo sites available you can easily find an image, or you can have a custom graphic created that will transform a wall or room into a unique location that people will remember and talk about. One of the current design trends is to create inspiration walls with words, phrases, or quotes that suit your business, customers, and employees.
How Wall Murals Benefit Businesses?
If you are looking to bring life to your interiors, change the way your office lobbies, hallways, personal cabins, and conference rooms appear, mural wallpapers are a great choice. They help in strengthening indoor branding and expose visitors to the creative side of your business. Custom wall murals are known to boost employee morale as they improve the working environment.
Great uses for digitally printed custom wall murals:
To display the company's history as a unique timeline
As a showcase for your products or locations
To inspire employees
Brand development
To create a unique environment for a restaurant, hotel, etc.
Components of A Modern Wall Mural?
If you have not done it before, it is very easy to get confused while choosing the perfect wall mural for your business. As there are so many possibilities when it comes to the design, finding the right wallpaper that aligns with your brand, complements the interior décor can become stressful. Here we have made a list of items that be included on a custom wall mural to make it more effective and attractive:
Your Business Logo
Your Brand's Tag Line
Company's Mission Statement
Your Product Line/ Major Products
Recent Accomplishments
Upcoming Events
Motivational Quotes
Custom-Made Wall Murals for Your Toronto Offices
Successful Toronto companies use every tool they can to positively influence their bottom line. Often overlooked, your company's wall space can play a vital role in enhancing customer experience, improving employee morale and productivity, and cementing your brand messaging. Commercial wall murals are a simple but customizable solution that can take your business space to the next level.
At SSK Signs, we can work with you to come up with decorative wall murals designed to specifically provide the right solution for your needs. Whether your Toronto business is looking to add logos, text, images, or other design elements, our team can help you come up with a one-of-a-kind look.
Uses of Wall Murals
Paint or basic wallpaper can only take the interior of your business so far. Custom, eye-catching, transformative mural wallpaper can bring life to your space. There are so many ways you can use murals to improve your interior. Here are just some of the reasons why you should consider adding them to your walls.
Maximize your space: Not only can they help smaller spaces look bigger, but adding something unique like 3D wall murals can go a long way in helping you make the most of the space you have.
Liven up a room: Want to quickly improve your office design? Without changing anything else or undertaking a costly renovation, adding a mural will make a space more attractive and more dynamic. Peel and stick wall murals are great options for those renting their commercial space.
Tell your brand's story: Toronto wall murals should be thought of as a form of visual marketing that gives you an opportunity to showcase who you are. Fill a mural with company colours and brand imagery or showcase your corporate values.
Create a better workspace: An inspiring wall mural can serve as a daily source of motivation and inspiration for employees which will help keep productivity high.
Making Wall Murals Work for Your Business
There are so many types of wall murals to choose from, but the right option will come down to what you're trying to achieve and the industry you're in. Whether your business is focused on wellness or is a new retail space trying to entice customers, SSK Signs can help make the most of your wall space.
Some examples include:
Using murals to help corporate offices reflect their company culture.
Adding striking imagery in waiting areas of hotels and restaurants.
Creating a calm atmosphere in wellness and yoga spaces.
Advertising products in retail spaces with creatively designed wall murals.
Office walls are essentially a blank canvas, but you can transform them into anything you want, thanks to versatile murals. You can make a space feel modern and edgy, or you can transform the atmosphere into something serene. This low maintenance and affordable interior signage option makes it an excellent choice for businesses of all kinds.
Toronto's Most Trusted Custom Wall Mural Company!
SSK Signs offers wall murals and removable wallpaper options designed to enhance your business space. Once we customize your ideal design, your mural will be printed using durable, high-quality material that's made to last. Choose from a wide range of colours and patterns, or let us incorporate your high-resolution images. Wall murals have the ability to completely revitalize your interior. If your Toronto, Mississauga, or Brampton area business is considering adding murals to your space, contact SSK Signs today to learn more about our custom options and professional installation.
Vinyl Wall Graphics Installation By SSK Signs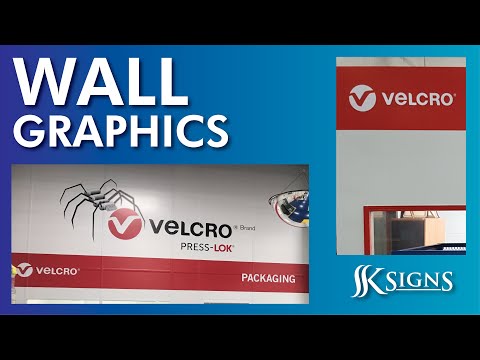 Custom Wall Mural & Graphic Ideas for Your Business by SSK Signs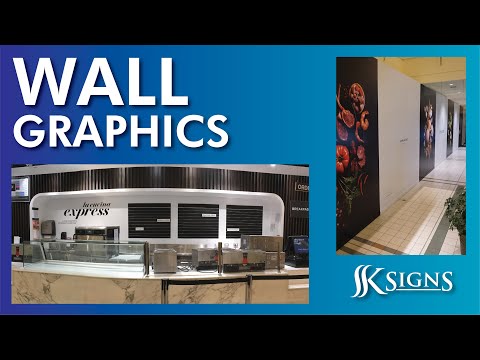 What is the difference between a wall mural and wallpaper? 
Wall murals and wallpaper can both add visual interest, depth, and color to any space. However, wall murals are highly customizable and can be created to fit your specific design needs. Wall murals can include your business name or logo, brand colors, as well as your own artwork or photographs.
Are wall murals permanent? 
No, our wall murals aren't permanent. Made from high-quality adhesive vinyl, they can last in place for many years, but can also be removed when you no longer need them or want to change up the design. When installed correctly to start, removing a wall mural shouldn't damage the walls underneath. 
How much should I pay for a wall mural? 
The cost of your wall mural will depend on many factors including the complexity of the design and the size of the mural. Installation may also vary in cost depending on where the mural will be installed and how complicated that might be due to the wall and space selected. SSK Signs would be happy to provide a quote for your wall mural. 
What are wall murals made of? 
Wall murals are most commonly made of adhesive vinyl. You may also be able to choose a matte or glossy finish. Depending on your design and your needs, the thickness of the vinyl or other material used can also vary.
Can murals be printed? 
Yes, our wall murals are printed. Using the highest quality materials and fade-resistant ink, we can print your photos and graphics right into your mural or help you come up with a unique design that will elevate the interior of your Toronto area business. To learn more about our mural printing process, contact us. 
How do I print a large mural? 
If you have a large mural you want to have printed, it's best to work with an experienced printer that can properly set up the file to produce the results you want. SSK Signs can help create large mural designs and print large murals to ensure excellent resolution and color accuracy. 
Does a wall mural need to cover an entire wall? 
No, a wall mural doesn't need to cover an entire wall. You can partially cover a wall or partially cover a few walls. Wall mural options are plenty and since you can create customized designs, it's easy to come up with something that works specifically for your Toronto area business. 
What is a vinyl mural? 
A vinyl wall mural is made using adhesive vinyl that can be affixed to just about any wall. Businesses across all industries make use of vinyl murals to add visual interest to their space. A highly customizable marketing tool, vinyl murals can be created in any size and can include your brand colors and elements, as well as product images. 
Can you remove a wall mural? 
Yes, you can remove a wall mural. You should be able to gently peel away a mural, starting from a corner when it is no longer needed. A high-quality mural should not damage the wall underneath. If there is some residual adhesive, it can be wiped away using hot water, soap, and a clean rag. 
Are wall murals easy to put up? 
Wall murals are easy to put up and don't require much downtime, meaning there will be a limited interruption to your business functions. However, professional installation is suggested to ensure that there are no bubbles, lines, or creases in your mural and that everything lines up as it should.