When signs are new they reflect positively on the business they are advertising. Electric signs with some letters burnt out, vinyl graphics that have faded, cracked, or peeled over the years, signs now blocked by overgrown plants all give the impression that the business is no longer current - and maybe there is a better choice just down the road.
Outdoor signage is one of the most cost-effective advertising mediums. An effective marketing strategy includes periodic review of existing signs to identify worn, broken, or signs that are no longer visible. In some cases, just a bit of maintenance is required or a bit of refurbishment to get those signs looking new and pulling customers into your facility.
SSK Signs would be happy to provide an assessment of your current monument, pylon, fascias, channel letters, or any other outdoor signs you have. We will provide a no-obligation quote to repair, refurbish or replace any existing signs as well as suggest any additional signs that would benefit your business.
How Outdoor Signs Boost Foot Traffic to Your Business?
Many people may assume that outdoor signage simply refers to a fixed sign on the exterior of your building. However, outdoor business signs used throughout Toronto and Mississauga actually include a wide variety of different signs that can be used outside your building to mark your location or advertise your offerings.
With the option to be designed in many different shapes and sizes, SSK Signs can work with Toronto area businesses to provide an outdoor sign solution that will work for your needs. Based on your ideas and your goals, we'll help you choose the right material, such as vinyl, metal, wood, aluminum, or acrylic, and deliver a design that highlights your brand and makes your location hard to miss.
Professional exterior signage can elevate your presence, making your location more noticeable to those walking by as well as to potential customers who may be driving by on roadways or busy highways. Choose a unique dimensional letter sign to showcase your business name, or retail plazas may benefit from a pole sign to highlight several businesses in one Mississauga location.
Types of Outdoor Signs
Adding unique outdoor business signs that truly reflect your brand is a smart way to build customer loyalty. At SSK Signs, we'll work with you to create the ideal signs for your location by determining the best style and size to suit your needs. We can also provide guidance on where to place your sign for the most effective results and complete the project by providing professional installation too.
As a full-service sign company in Mississauga, SSK Signs has what it takes to produce quality signage that stands out. Some of the most common types of custom outdoor signs include:
Retail storefront signs
Dimensional channel letters
Post and panel signs
Monument signs
Hanging signs
Metal signs
Pole and pylon signs
Banners and flags
Digital message boards
Illuminated signs
The cost of outdoor signs will vary based on the style and size you need as well as whether or not you are looking for signs with illumination. Keep in mind that a successful sign strategy will likely include more than just one type of outdoor sign. The team at SSK Signs can help you create a cohesive plan that ensures your brand is well-represented throughout your outdoor space.
Find the Best Outdoor Signs Near You
If you want to improve your image and your brand visibility, you need effective outdoor signs. From large corporations to restaurants, shopping centers, retail stores, professional offices, educational institutions, and sports facilities, every single business and organization can benefit from quality exterior signage.
Choosing the right signage partner, like SSK Signs, will help ensure you get high-quality signs that deliver results. Our team will provide you with a comprehensive exterior signage plan that will help generate a positive reputation for your business. With a wide array of signage options and strong industry knowledge, we'll help you find exactly what you need.
Looking for a signage upgrade? Not only can we design new signs, but we can also revitalize outdated signs and replace them with more effective options. From one single sign to multi-location projects, we always aim to build long-term relationships with our customers based on trust and satisfaction.
SSK Signs: The Signage Partner You Need for Great Exterior Signs
The uses for outdoor signs are many, but it all starts with a well-made, professional sign that your business can be proud of. Let SSK Signs help you create the best signage for your business. We only use high-quality material so that our customers receive durable, versatile, and eye-catching signs that help them stand out. Contact us to learn more about working together. We look forward to providing outdoor sign solutions that support your success.
What are outdoor signs? 
Outdoor signs are made from durable materials and used by businesses and organizations to share information with potential visitors and customers. They can be freestanding or attached to a building's exterior and can be focused on brand awareness, contact information, or designed to promote a specific product or service.
What is the best material for outdoor signs? 
While aluminum is probably the most popular material for outdoor signs, the right choice will really come down to the type of sign and the design. Outstanding outdoor signs can be created using metals, wood, acrylic, vinyl, or in many cases a combination of more than one material option.
How long will outdoor signs last outside? 
Depending on the type of sign and the materials used, a professional outdoor business sign can have a 10-year life span. SSK Signs can help you design an eye-catching durable sign that will help you better connect with your customers and improve the exterior of your business for years to come.
What does outdoor signage do for a business? 
Outdoor signs are crucial for business success in every industry. They are one of the most effective tools when it comes to telling potential customers that you exist and how to find you. Well branded and visible outdoor signs can improve brand awareness, increase foot traffic and grow your customer base.
How long does it take to make a sign? 
The time it takes to create your sign will depend on the type of sign, the size of the sign, and the complexity of the design. At SSK Signs, we do our best to work within customer timelines and actively communicate throughout all projects so that things remain on time and on budget.
What are the types of outdoor signs available to me? 
There are so many types of outdoor signs available which means it's possible to find exactly what you need to support your business's success. The team at SSK Signs keeps up to date on signage trends and innovation, which means we not only have classic sign types available but can help you make the most of new and unique options too.
How much do outdoor signs cost? 
The cost of outdoor signs varies on many things such as material, size, design, and installation. However, whatever your signage needs, SSK Signs can make the most of your marketing dollars so that your business gets the professional signage you need to stand out. From single banners to channel letters, there are great signs to suit every budget.
Where can I get outdoor signs in the GTA? 
SSK Signs is a trusted outdoor sign provider in the GTA. When looking for a sign partner, be sure to ask about the quality of materials used, design options, and installation. An outdoor sign is an investment in your business so you want to choose a sign partner, like SSK Signs, that can offer well-made, well-designed sign solutions.
Why should I get outdoor signs? 
Outdoor signs are highly visible and can help attract the attention you're looking for. In addition, they help improve curb appeal, make your business easier to find, and build customer loyalty. The right outdoor signs can also send the message that you're an established business that is competent at what you do.
Watch SSK Get the Job Done Right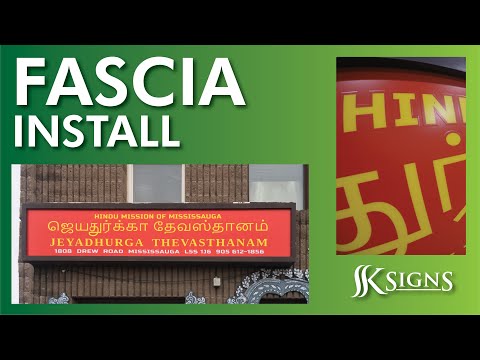 See how we design, manufacture and install exterior safety signs & banners for businesses