Van wraps and graphics are a popular choice among businesses that use commercial vehicles for delivery or other purposes. With a properly designed van wrap, businesses can have a unique identity that can be communicated wherever your commercial vans go. The surface area of vans provides an adequate space for your brand's message to be highlighted and since they are mobile, the message can be shared by just driving around. As the frequency at which the message is being viewed has a major impact on how it will be perceived, the more vehicles you own, the better results you can expect.
For businesses that are looking to bring down advertising expenses, van wraps are a perfect choice. Compared to other forms of advertising like billboards, posters, magazines, airtime on TV, and even digital platforms, van wraps and graphics are considerably economical.
The Right Place for High-Quality Van Wraps in Toronto and Mississauga
---
Vehicle wraps involve a process that requires diligent attention, material durability, and careful and precise installation. We are a team of experienced professionals that can deliver perfect van wraps and graphics for your business. All our wraps are made from the best quality vinyl that ensures a quality finish and durability for long-lasting brand recognition.
If you operate a business in the Toronto or Mississauga area with a single van or a commercial fleet, get in touch with us to ensure that your branding project will turn out perfectly! If you have an event coming up, we can even design a temporary wrap for your vehicle, which can be removed with ease once the event is over. We offer many options to help accommodate your needs.
Why Van Wraps Are So Effective?
---
Van wraps can turn your vehicles into rent-free advertising billboards. One interesting fact to consider, custom van wraps not only display your brand's message when they are on the move but also when they are parked in crowded places with high foot traffic.
Van wraps also have the advantage of reaching the areas where traditional advertising cannot reach effectively. They provide you with an exclusive space to promote your message, which means your brand's message will not be sharing the light with any other message.
Our custom van wrap options are designed to suit your business' requirements. If you are looking to start small, we can provide you with attractive van decals. Van decals are small pieces of graphics that usually contain a logo or contact information. For some companies that are well known, a small logo can also remind people of their presence.
With commercial van wraps in Toronto and surrounding areas, you can be assured that your vehicle's paint will not be damaged. Instead, it will be protected against small dents, scratches, and weather conditions. As a result, you can expect better value of your vehicle at the time of selling.
If you have any questions about how van wraps can benefit your business in Toronto or Mississauga, get in touch with SSK Signs today.
Transforming Commercial Van Into An Advertising Tool!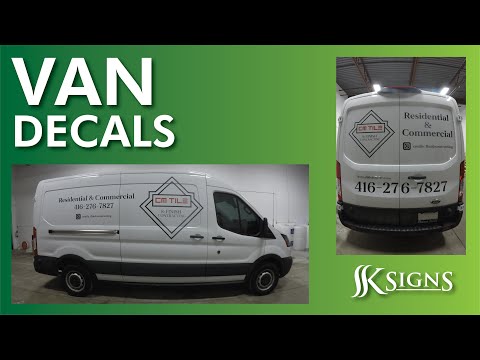 Watch How We Install Vinyl Decals for Business Advertisement